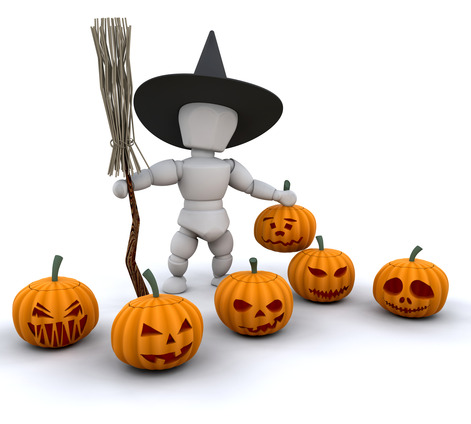 Halloween is now worth around £280 million in Britain and is rated as the second favourite family celebrations behind Christmas. You will notice the shops this year were full of Halloween items right?
The good news is that you can still have a fabulous Halloween without spending too much. Here are a few ways to save on your tricks and treats this year.
Save On Halloween Spooky Purchases!
If the thought of making a costume makes you shrink in fear, don't worry. Try one of these tips to save money instead.
For this year, try a costume swap. Get a few friends and family members together with all the costumes you have from previous years. Let your kids pick out a new to them costume, for free!
The best way to save is to buy early. As in, buy your costume the day or week after Halloween. Because these costumes are seen as a seasonal item, most shops will offer deep discounts after the holiday to get rid of them. This tip won't help you this year, but remember to Halloween shop after the holiday is over in preparation for Halloween 2017.
If neither of these ideas works for you, remember to shop online for bigger discounts than you may find in the shops near you.
Here are my 5 cheap spooky Amazon favourites.

1: Startle your little visitors or indeed your young kids with with this startling toilet topper decoration! Very cheap and it could stay on the toilet as a novelty item a lot longer than just the Halloween period. It is a great little fun sticker which would catch the attention of visitors for months! This is also under £3 delivered so a very cheap add on to the Halloween theme in your home.

2: Are you having a Halloween party? Why not design one of the walls where the party will be hosted? This friendly gothic wall decorating kit will give your party the boost it needs. Every pack includes a total of 32 Halloween decorations which are easily removed from the wall once your party is finished. I am sure if you're really careful, you'll be able to reuse this product the following year.

3: No party would be complete without a few selfies would it! This is a 14-piece DIY Halloween party card masks on a stick. Again, these can be used for other parties in the year and tucked away for next year. We often buy the Christmas type ones and they make great photos and memories. Great for people who are camera shy as it encourages them to feel less shy in a photo as everyone is making a fool of themselves

4: If you're thinking about baking some cakes for your Halloween party, why not add a little spook to them. These edible witches hats make a great topping for your fairy cakes. There are plenty of other designs available from other Amazon seller too. You'll find these by visiting the cake decoration section HERE.

5: Now I am not easily scared but I had someone knock my door last year with a zip face… OMG very realistic and great if you want to add a little gore to your fancy dress party or night out. Warning: This is not suitable for children under 14 years. For use under adult supervision.
Don't Spend a Fortune on Sweets
Find a shop that sells sweets in bulk and stock up. This is a much cheaper alternative than buying the big bags of sweets from the local sweet shop that are marked up simply because of the season. Poundland had a huge selection this year.
If you don't know of a shop that sells in bulk, remember to purchase generic. Kids don't care what the label says as long as it is full of sugar and has something spooky design on the tub!
Cheap Decorations if you don't want to spend any money
Be sensible about your decorations. A cheap white sheet or towel can make a great ghost, and your kids will love helping you colour and cut out other decorations. This is a holiday that lasts for one day. Your outfit doesn't have to last long, so don't spend a lot of money buying the best quality items you can find. Use pumpkins as your decorations as they are cheap, last a while and you can turn them into pumpkin pie when you're done!
You could also make piñata for your Halloween party or just change the design for any party. Plenty of tutorials on YouTube.
Pinatas are easy to make and cheap – Watch a quick demo Halloween Papier-Mache Bat Pinata by Martha Stewart:
Halloween is the beginning of 'holiday season' and by saving money on this holiday, you will have more to spend on the others coming up like Christmas.
Halloween can be fun for kids and adults alike so don't let yourself get stressed out by spending too much money.