When your budgets are tightening and we are counting every last penny, it can be reassuring to know that other people in the UK are in the same situation. Kublax, the UK's equivalent to the mighty Mint.com have recently released anonymous spending data from their users, which plots out their spending habits across common categories such as food and dining and entertainment.
This data has also allowed thrifty savers in the UK to compare their spending to the rest of the country to understand whether their spending is over the average:
The data, which is collected by their secure money management software, tracks all of your transactions and categorises them according to the type of spending it is. If you make a debit card transaction, for example buying food at Tesco's, it will be then filtered under the Groceries and Supermarket category, allowing you to understand where your money is going on a monthly basis.
Despite the recent economic down turn, Kublax data shows that the UK spending confidence may be on the rise, with expenditure on Clothing/Shoes and Accessories rising by 12%, at an average of per Kublax user in £241 in Q2 compared to £215 in Q1.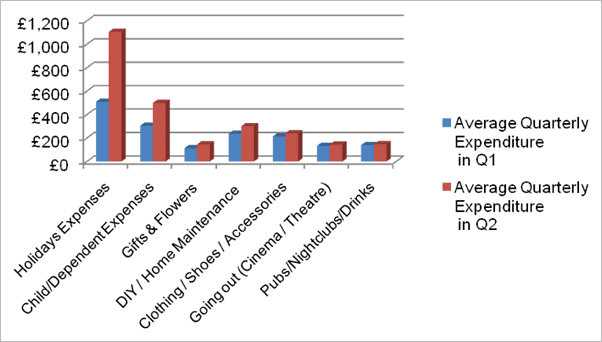 This trend does not follow suit in many other areas however, including spending on Coffee, snacks and Dining out taking a fall in Q2, along with a lower average spend per user on Petrol costs for their cars: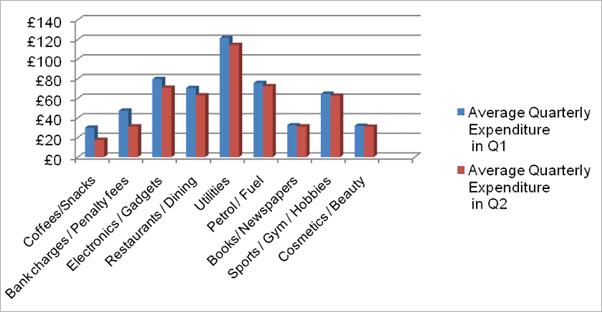 There are also many remnants of the credit crisis visible in their data, including a graph outlining the average monthly loan expenditure for each user, with South East England spending an average of £406 per month on loan repayments, compared to just £143 per month in the East of the country:
Because Kublax is free and straightforward to use, it's a good way to keep a check on your finances quickly in one fell swoop.
You add your banking details and their software retrieves your transactional data and plots everything out for you into filters defined by you. On top of helping your personal budgeting, I would probably use this as a quick way to detect any identity theft or unusual spending behaviour on my accounts.
It may be that just like your neighbours, you fall into the average spending category, or you might just uncover some spending demons you never realised you had. Sign up for free at www.kublax.com.