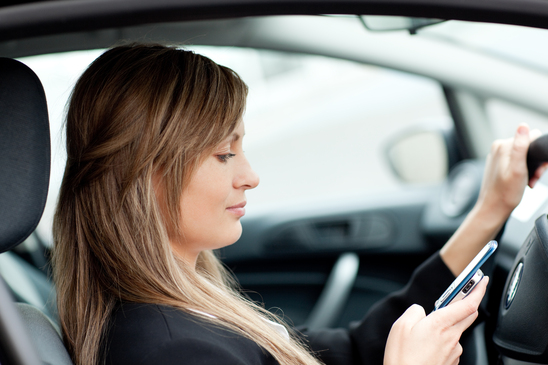 Do you get annoyed by idiotic drivers who have no thought for others while driving on the road? 
Dashcams already fitted to ordinary drivers' cars and vans could help police catch road users who openly flout laws such as using a phone behind the wheel.
UK public wants to be paid for catching road criminals
That's the opinion of a car leasing company who thinks that citizens who use their in-car cameras to record law-breakers should be entitled to a reward equal to a set percentage of any fine levied.
The Flexed.co.uk company says it's a plan that's not restricted to dashcams – pedestrians and passengers should be able to submit mobile phone footage to help police crackdown on dangerous driving.
"It's an idea for which the time has come," says Flexed.co.uk spokesperson Mark Hall, "Budget cuts mean the police are stretched far enough as it is, so allowing citizens to submit footage in return for a reward on prosecution will help improve road safety. "In fact, we would be amazed if the government doesn't have advanced plans for this right now."
At present, citizen evidence can't generally be used for motoring prosecutions. Police-backed community groups are able to make use of speed guns to improve local road safety, but those drivers who are caught over the speed limit are merely sent a strongly-worded letter rather than a fine.
"This plan needs a shift in thinking among lawmakers and police," says Hall, "and mobile or dashcam footage that catches the driver and the number plate should be considered as acceptable evidence, if not for prosecution, then for a police warning at the very least."
It's an idea that has widespread support among people concerned about road safety, especially in urban areas and near schools.
Anna from Oxford said:
"I'd probably make £100 just dropping the kids off at school in the morning. Every other car I see has the driver glued to the phone, or head down texting something to a friend."
Steve, a self-employed lorry driver from Manchester said:
"If this takes off, this time next year, I'll be a millionaire! I've had a dashcam in my cab for the last year, and I see dangerous drivers having near misses every day. If only there was some way of turning my footage in to the authorities."
Expert opinion is also on the side of legalising evidence from citizen sources. Jonathan Ratcliffe Managing Director of CCTV.co.uk said: "Closed-circuit camera systems have long been accepted as sources of evidence as long as the footage is time-stamped and dated.
"The same should also be true for even the more modest in-car systems, whose footage is more than acceptable for insurance purposes. It's an excellent use of the technology that has come on leaps and bounds in recent years."
Ratcliffe also says that metadata that comes with mobile phone video files should also be acceptable. "As long as there's no way of tampering with footage and associated metadata, there should be no problem in law with it being used in prosecutions. It would only take a relatively small change in police legal guidelines."
It's not about extending "Big Brother" powers either, Flexed says. People should remain under no obligation to submit footage, meaning that police are effectively barred from accessing the contents of people's phone or camera memory cards, in the same way that press photographers are protected now.
"As long as there are safeguards for fraud, this is a plan that could act as a deterrent of misbehaving drivers up and down the country," says Flexed.co.uk 's Mark Hall.
"And it will also bring about a whole new generation of people with respect for the law."