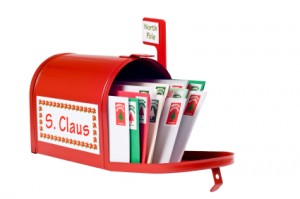 It's been a hard emotional year for many people, receiving something funny from a friend in your email can lift their spirit for the rest of the day.
I received a special message from Father Christmas himself this week that made me smile. I thought this video was great so forwarded it to my friend. His son had sent a letter to Santa and still hasn't received a reply back; as it's cutting it a little bit fine this will be a great replacement.
As technology advances every year, if you want to send a cool special message to a family member or friend from Father Christmas this is a great little video from Portable North Pole. You enter the persons details, answer questions about them, even upload a picture to make it even more personalised. You can see the demo before sending your message and it's completely FREE. This will put a smile on the face of any child or adult and it's delivered in to the recipients email account immediately.
Another little amusing video I received was from elfyourself.com it was clear from my sisters video that as a family we are more than capable of entering Britain's Got Talent next year and winning.
Sending a video or e-card to your chosen person will always involves giving the recipient's email address to the e-card service so always check the term of use as some operators might misuse this email address for spam or advertising purposes. If you are sending anything like this to a business check first, you wouldn't want to get in trouble.