My son and I decided to revamp my garden using only items people were giving away from the website "FREECYCLE". In only a week I noticed lots of useful items people were giving away. These items included things like sheds, turf, plants, soil, wood, paving slabs, bricks, hardcore, lawnmowers, garden spades, and even a complete GARAGE!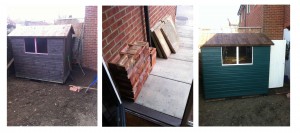 I realised quickly that when you see an item on the FREECYCLE website that you want its important you're quick to reply to the post owner because if it's a popular item it won't be long before it's GONE.
So how do you bag yourself the item you want?
Popular posts could receive anything up to 40 email requests asking for the item so how do owners choose who they give their item too? Well, when I give away an item I always try and pick someone who I think isn't trying to bag the item to SELL and make money for personal use (This isn't what the site is about) I will read ALL the replies and try and choose someone who I believe could really make good use of my items.
AN EXAMPLE ADVERT:
JOHN 565TF : WOODEN SHED IN GOOD CONDITION: I have a 8 x 6 shed, need a little bit of love and roof needs new felt. PLEASE NOTE: Buyer must collect by FRIDAY this week.
Now some people wouldn't bother to write anything much apart from Hi Mate, can I have your shed please?
Cheers.
Personally I would take a little more care as I know I really WANT the item I'm asking for. I try and be honest and explain why and what I will do with the item they're giving away.
Dear John
I would think you will get lots of replies for your shed so I hope I'm not too late? I am doing a little garden project with my son Bradley and a shed would really finish off our project nicely. It will not only be useful to store some items but give us a place to chill out in the summer!
With the paint I got from a fellow FREECYCLER like you I could give this shed a new lease of life! I can collect and dismantle before Friday and I'm more than happy to pick it day or night to fit in with you.
When the shed is dismantled my son and I will of course leave the area clean and tidy for you.
I hope you allow us to have your shed and look forward to hearing from you shortly.
Best wishes
Peter
An honest reply has worked for me and I have managed to get lots of useful items for the garden project so far. The rain is the only thing putting a stop to things in the garden so far! RIGHT, I better go search out some roofing felt and crack on with this project.
Thanks to everyone who has offered items for the garden if you get to read this!