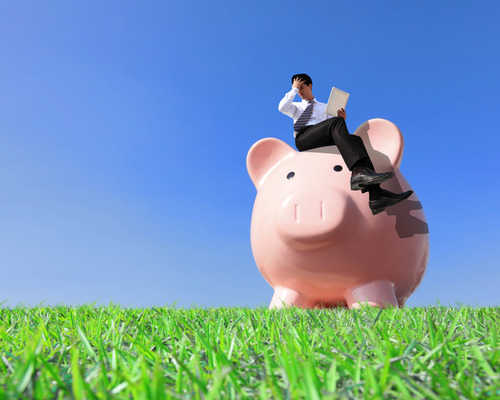 As we know, the financial climate isn't the best at the moment, and in between daily expenses and a few little treats essential for cheering up grey days, saving money may be the last thing on your mind.
We're not talking about saving as in buying own-brand tomatoes and bulk buying toiletries, as you're probably adept at that. We're suggesting the kind of savings where you actually put some money away each month, until it all adds up to a lump sum that really counts. We may be talking saving enough for a holiday, saving for a rainy day, or even saving enough for your retirement.
Surprising fact #1: Savings actually increase in value
You could just put a hundred quid under the mattress every month and wait for it to add up, but a savings account will mean that your money grows. For example, if you put £100 away a month for the next 3 years, at an interest rate of 2.1%, you'll end up with £3,713. Not bad, right? If you keep this up for 20 years, you'll come out with £29,795.
While 2.1% may seem like a tiny amount, you'll find that over 20 years the magic of compound interest means that it has netted you £6,000 extra, which is not to be sneezed at. It may well be worth finding a extra few pounds a month to save in order make that kind of profit in the long run.
Surprising fact #2: You can save tax (or avoid it altogether!) with the right account
So starting a savings account sounds great, but won't you lose any extra money you make in interest to tax? Not if you put your money into an ISA (Individual Savings Account). There are two kinds: A stocks and shares ISA or a cash ISA. You can choose either sort, or mix n match. Either way, you can save up to £15,000 a year (£15,240 from April) tax free this way.
Surprising fact #3: It's not so complicated
So how to start? It's true that savings accounts, ISAs, and investments look perplexing and might feel a bit intimidating. The bank where you have a current account will be happy to sit down with you and take you through the options, but be aware that of course they will only sell you their own products.
An independent financial adviser can help for a fee, but you can also assess the options yourself.
If you want to do this, it's best to get a rough idea of the type of savings that you want, and what you want them for, and then check out who is offering the best rates. On the whole, the longer you can leave your savings in the bank for, the more interest they will offer you.
Small, easily accessed amounts: an instant access savings account is best. You won't be tied in, and while your interest rate is low, you can still watch your savings grow. An internet only account might offer better rates than others, and has the advantage that you can manage your money easily online.
Slightly larger amounts for a few year's time: a notice savings account. The rate of interest is better, although you will be penalised if you decide that you desperately need the money without notice. Alternatively, an ISA is good here. You will be asked to deposit a minimum amount, which varies from brand to brand, and keep it in for the agreed term.
For long term savings: Did we mention ISAs?
For retirement: Pension or ISA. A pension is a kind of investment, which means that the amount at the end of your term isn't guaranteed—but the potential rewards are usually great enough for this to be considered the best long-term option for retirement savings. Investments, of course, do go down as well as up, but with the right plan you will get regular notifications of predicted outcomes, and an online account will allow you to keep an eye on it yourself.
So as you can see, it's worth exploring the options. It can be strangely exciting tracking your savings, and watching them grow to certain targets. It's certainly more fun to open a letter telling you how much interest you've earned this year on your savings account than one telling you how much you've paid on your credit card. But be warned, it's the kind of bug that's difficult to shake once you've started!