In today's economy, many families have had to give up eating out and certain entertainment venues. With the Phantom card you can begin enjoying the little luxuries in life again because they will now be incredibly affordable with 50 percent discounts and 2-4-1 deals.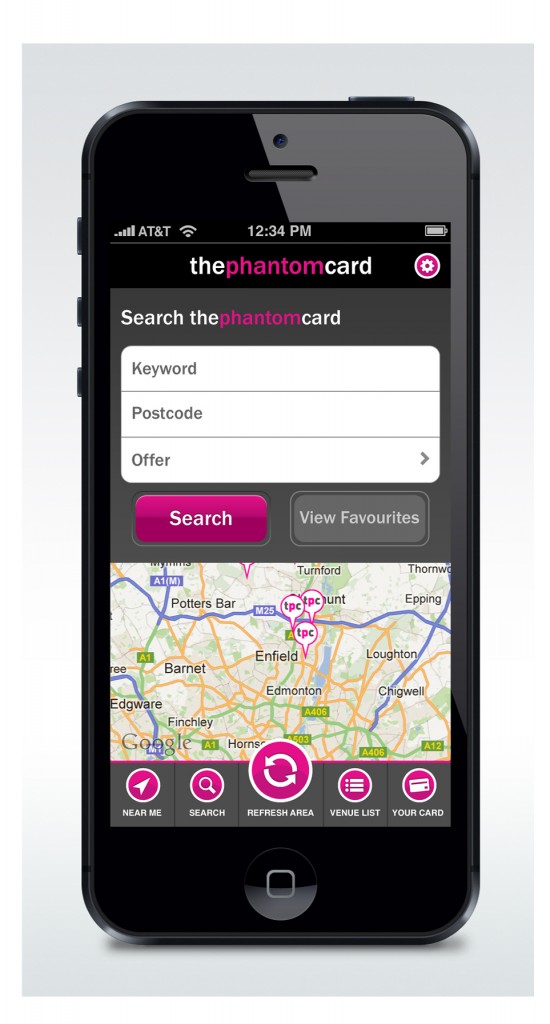 Not only does the Phantom card provide you with significant discounts, the new Phantom card app also makes finding these venues super easy. Download the app from the iTunes store and you will find that savings are all around you. The Samsung and Android versions are expected to be out by March of 2013.
When you first download the app, you will fill out your gender, date of birth and where you live. This helps the app be completely tailored to your own needs.
The updated version of the app makes it searchable so you can quickly find your favourite restaurant. You can also use this feature to search for venues by discount offered, certain keywords or postcodes. You can save your favourite venues to a list to find them faster the next time you want to go there. You can also share your favourites with your friends via Facebook and Twitter.
The app includes a feature that can search for discounted venues wherever you are in the UK. If you are travelling to Scotland, for instance, you can search for discounted restaurants right on your mobile device. You might find yourself in an unfamiliar part of London for a conference and want to visit some shops that you don't frequent. Simply search on your app for discounted shops and enjoy a shopping spree.
Each discounted venue shows on the screen with a pink flag. By touching the flag, you can see the company that offers the discount and what the discount is. It also shows you how far away the venue is from where you are at that moment. If you don't want to use the flags, you can bring up a list that shows all the venues near you.
The Phantom card currently costs £40. So what if you have the app but not the card and spot a great deal? You can purchase a day pass for £1.99 right from your phone to take advantage of that discount immediately! You can also purchase the full card membership through the app
The app was created as a direct result of the increasing popularity of the Phantom card. With over 50,000 members already using the Phantom card, it will soon be a must-have for any UK citizen or anyone who travels to the UK regularly. By eating out only one or two times, the card will have paid for itself.
The concept behind the Phantom card materialised when co-founder Richard Dinan realised that certain restaurants and businesses offered these discounts, but few people knew how to find them. He saw a way to help thousands of people save money without having to sacrifice the fun things in life.
Richard Dinan co-founded the Phantom card (@RichardDinan ) with Alexander Nall-Cain (@AlexNailCain ) You may recognise Richard from the series "Made in Chelsea", but he is also an accomplished entrepreneur. He holds director positions in many different companies, including publishing, security firms and capital venture.
Mr. Dinan descended from the First Earl Howe, who was an admiral of the British fleet on the Glorious First of June in 1794.
These young men have true entrepreneurial spirits, the drive and enthusiasm to work hard and the optimism to learn from their mistakes. With the advent of the Phantom card they have shown that helping people is a priority.
We (YouCouldSave) are grateful for their efforts in launching this card, as the savings are substantial and everyone can use this card for fabulous discounts.
Check out the website too at www.thephantomcard.com