Christmas is just around the corner and with presents to buy there's less money to spend on yourself.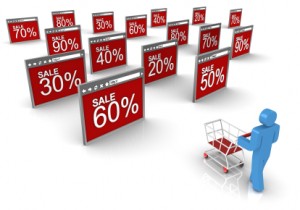 With Christmas parties and other social occasions coming up you may feel pressured to look your best. We've compiled a list of ten great ways to help save money on fashion for the festive season.
1. Avoid impulse buys
It's especially tempting to spend money impulsively in the sales. A good idea is to make a list of the things you really want or need when you go shopping. This will help you to stop buying clothes you're never going to wear.
2. Avoid the trends
Try to avoid trends that are unlikely to stick around. It's better to buy timeless pieces that you know suit your style and figure.
3. Bag a bargain in second-hand stores
It can take a bit of effort but there are some fantastic bargains to be found in second-hand and charity shops, especially if you like the vintage look. You can even do this online on Oxfam's website.
4. Choose classic pieces
It's always a good idea to purchase essential pieces that can be mixed and matched to create classic looks. Again accessories can be used to add interest and create new looks.
5. Customise or accessorise your existing wardrobe
Old clothes are just waiting to be given a new lease of life. Finding some on trend accessories will be cheaper than putting together a whole new outfit and can be used to update numerous outfits.
6. Find an outfit for all occasions
Rather than splashing out on a glitzy dress that you'll only wear for your Christmas parties, find something more simple that can be worn on more casual occasions and dressed up for big nights out.
7. Find the best price online
You may have found the perfect party dress in your favourite store but it may be worth checking if you can find it cheaper online. Get an idea of the style you want in the shops and then check online for better prices.
8. Find voucher codes
Websites such as myvouchercodes.co.uk and thefashionpixie.com often have voucher codes to save you money in high street shops and online. Whether it's money off or free delivery for online orders, every little helps!
9. Have a clothes swap party
A completely free way to update your wardrobe! Everyone has clothes they don't wear anymore but can't quite bring themselves to throw away. Get some friends together and ask them to bring their old clothes and make a night of swapping your clothes.
10. Make the most of the sales
If you just need to update your wardrobe rather than looking for something special for a festive occasion, you could wait for the Boxing Day sales. You'll have to get in quick and may have to fight the crowds but you're bound to find some bargains!