With so many great sporting events happening this summer, being in front of the television more than usual should be saving people a fortune – Who needs to go out and spend money eh!
Joking aside, with Euro 2016 well and truly underway and Wimbledon due to start on Monday the 27th June, how about showing your loved one you are supporting their passion and make them something TENNIS related?
Why not create some cool, easy to make and won't wipe out your bank account?
Being creative doesn't have to cost loads of money.
Handmade gifts mean the world to a loved one, I can assure you. I love making gifts for my girlfriend and I think it keeps our relationship strong, fun and more importantly, loving.
Below are a few simple ideas I found on online which I think you'll agree are fun and creative. These hand made gifts would be ideal for male or females of any age. Rack up some relationship points TODAY:
TENNIS RELATED FOODS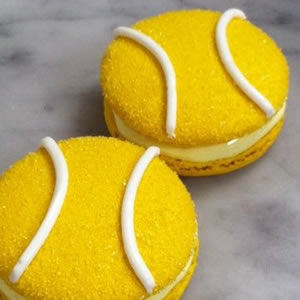 Tennis ball macarons https://uk.pinterest.com/pin/94575660900101339/
Tennis Ball Cake Pops http://www.lahootbakery.com/tennis-ball-cake-pops-creating-fuzzy-cake-pops/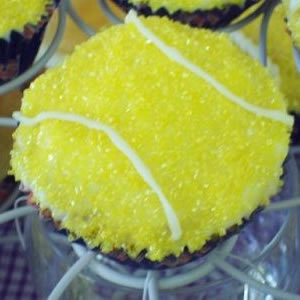 Tennis Ball Cup Cakes https://uk.pinterest.com/pin/92464598574717461/
HANDMADE GIFTS FROM A TENNIS BALL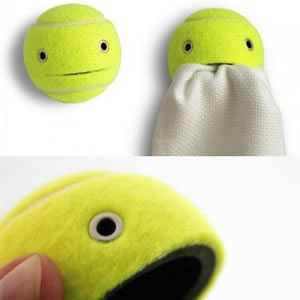 Tennis ball holder – http://www.upcyclethat.com/tennis-ball-helper/1714/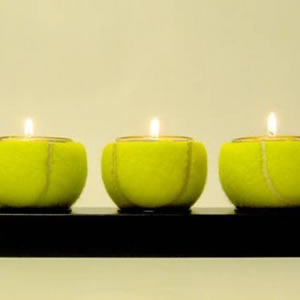 Tennis Tea Light Holder – https://uk.pinterest.com/pin/442056519647524099/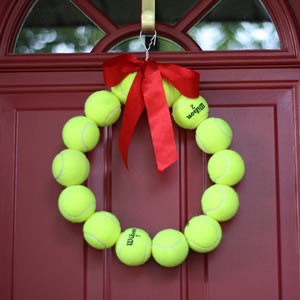 Tennis Ball Wreath – http://annanimmity.com/tennis-ball-wreath/
Not everyone is into making a gift so here are a few cheap tennis-related gifts you might like to consider ordering,  again low cost and will earn you some thoughtfulness points!
5 x CHEAP TENNIS RELATED GIFTS

1: Why not bring your loved one a lovely cup of tea or coffee in their very own personalised Wimbledon mug? You will have to provide the recipient's initial and surname (Max 13 characters) / Opponent's Initial and Surname (Max 13 characters) Great little cheap gift don't you think? Order HERE

2: Quack Quack Quack…. Well, with the little tennis duck you could prepare a hot bath for your loved one. Pop some bubble bath into the water and let this little duck float about waiting for his new owner to come and relax with him/her! Order HERE

3: After that tennis game why not take your loved outdoors for a quick game of swingball? This particular swingball set has more spirals than most. More spirals mean longer more intense games! All of the components in this swingball set to pack away into the base for easy storage. Order HERE

4: What a great little gift this is for computer geeks. This 4GB, high-speed flash drive will make any tennis fanatic very happy! Just check your system requirements are compatible before ordering: (Windows 98SE or higher, Mac OS 9.0 or higher) This will be perfect for most computers and laptops within the last 5 years! Order HERE

5: Perhaps you're fed up with your partner watching the games! Or maybe you're a practical joker like me and would enjoy playing a little trick on your loved one?! This 3D car sticker will fool them into thinking a tennis ball has crashed through their car window. The advert says it is very easy to remove, no damaging to the car or leftover glue after application. Order HERE