Looking to Buy a Cheap and Economical Scooter?
I remember getting my first scooter – Wow, the freedom of being able to get around was just brilliant. Now my son has reached the age where he wants his freedom too. When I was a lad you could just jump on a 50cc or 125cc without taking a CBT. Now there are few things you have to do first before being allowed on the road.

The few things to think about – Is a Bike or Scooter Right for You?
If you're looking to get started in the world of scooters and riding, there are many things to take into consideration. This is a fantastic hobby and a great way to get around, either for yourself or your teen. A scooter or moped as I call them can pay for itself over time.
Compulsory Basic Training (CBT)
First and foremost will be the Compulsory Basic Training, which young drivers or anyone who became a licensed driver after 1 February 2001 will be required to take unless the driver in question already has a full motorcycle license and simply wishes to switch to a different category.
The cost of the CBT will vary by location and service but expect to pay around £100, which will often cover the cost of any gear used during the training. You will want to do a bit of research to find out which CBT service will be right for you based on your location and availability. My son used www.motorbike-lessons.com who was in Worthing. They were BRILLIANT.  The CBT will be something you will book in advance, but payment may not be required until the actual training. Well, it wasn't with us at Norton, Motorbike and Scooter Training. (www.motorbike-lessons.com)
You must also take the motorcycle licensing test within 2 years after passing the CBT, or you will be required to retake it, so bear this in mind as well.
Choosing The Right Bike
You don't need me to tell you how many types of bikes and mopeds are available these days, so choosing the right one for you will be entirely up to personal preference. However, there is something to be said for buying locally or from a company online who you can get decent advice from. Seeing pictures and reading about a scooter on the internet pales in comparison to actually sitting in the seat, getting a feel for it, and making sure you fit comfortably on the bike.
Read Customer Reviews
A Google search for local companies near where you live is your best bet if you don't already know of a shop nearby My son chose his bike from The Scooter Warehouse in Worthing, West Sussex. They were just brilliant and so caring. (Read the review I left on their Google places page)  Even if you don't live anywhere near Worthing, they do deliver all across the UK.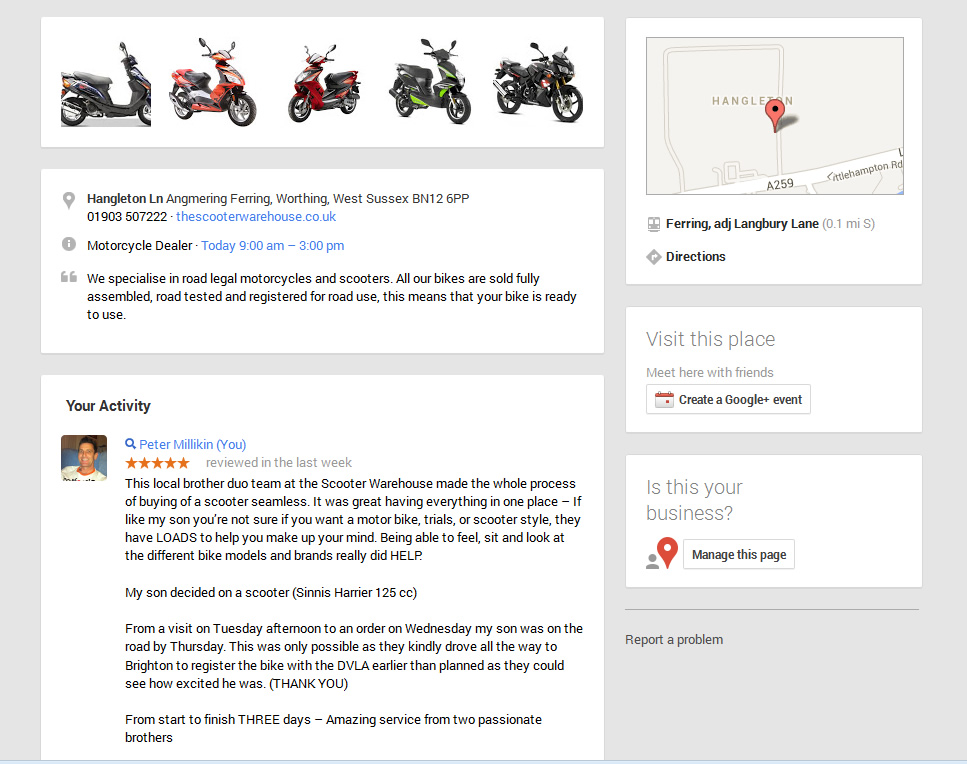 Their prices were extremely competitive and they didn't load up any additional fees; the cost of your scooter and the shipping will be all that you'll pay. They're also a family-owned company, and they pride themselves on being the largest bike and scooter warehouse on the southern coast. I can personally recommend them.
Seriously, consider visiting a local shop to get a feel for the bike you want, if Worthing isn't within reach and you want the same treatment as me then the Scooter Warehouse would certainly deliver to your door.
Budget
Obviously, you need to take the cost of the bike itself into consideration, but there are many other fees and purchases to consider as well. Any sort of safety gear such as helmets, jackets, trousers, or security items like an alarm or lock will need to be planned for accordingly. The gear itself can range from about £200-300, and the alarm will probably cost about £100.
Bike insurance can be rather expensive for a young motorist, between £350-600 depending on whether you include third party insurance as well as fire and theft. This is really one of the necessary evils of being a driver, so taking into account an additional £1000 on top of the cost of the bike itself will be crucial.
Advantages
Though the initial cost might cause some to shy away, owning a bike or scooter can actually save you more money in the long run. They are typically less damaging to the environment and burn far less fuel than a standard automobile, making them ideal for college students or anyone who might have a bit of a commute to get to work in the morning.
They carry a much smaller profile than most vehicles, allowing you a bit more freedom than you would otherwise have. This can have quite the effect on your adventurous side, getting you out of the house more to enjoy the sun on a warm day. Because of how much fun a bike can be to ride, travelling won't feel like a chore, and you'll derive years of enjoyment from such an investment. This can be quite healthy for teens as well, once they understand the safety precautions and responsibility required in owning a bike or scooter.
A bike can be a fantastic alternative to traditional transportation methods, and there is a lot to consider before getting started. Planning ahead and making sure you get all the facts ahead of time will ensure you'll be on your way to the best experience.