Do You Want To Reduce Your Energy Bills?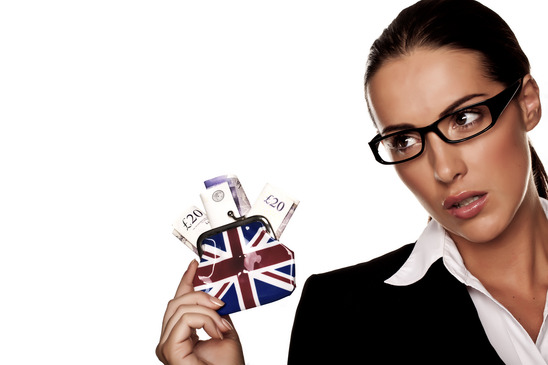 There has never been a more suitable time to reap the benefits of saving money on your household energy bills. Especially with the rising cost of living!
As the emphasis on reducing our carbon footprint also grows, householders are even more concerned about their energy consumption than ever before. When was the last time you looked in to the cost or savings on gas and electricty?
Does your head spins when you think about the work involved in changing energy suppliers? Don't worry, it really isn't that hard!
Comparing Energy Supply Prices
It is quite possible that you have been paying over the odds on your utility bills if you have been with the same electricity and gas supplier for a while. You can easily find out if you should switch energy suppliers by looking into independent energy price comparison websites.
The most sensible thing to do if you are not 'energy comparison savvy' is choose a comparison site that has signed up to the  Ofgem – Confidence Code of Practice. This will make sure that when you receive information about the supplier and the costs for your energy supply, it will have been worked out in a fair and honest way for you.
Here are the energy companies signed up to the 'Confidence Code of Practice'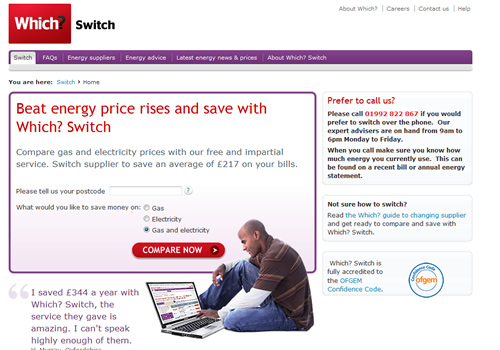 Which? Switch Which is well known for saving consumers money and having detailed reviews on products and services. They boast they can cut your gas and electricity bills by an average £217. Use their impartial energy tariff price comparison engine. Follow Which on Twitter @WhichUK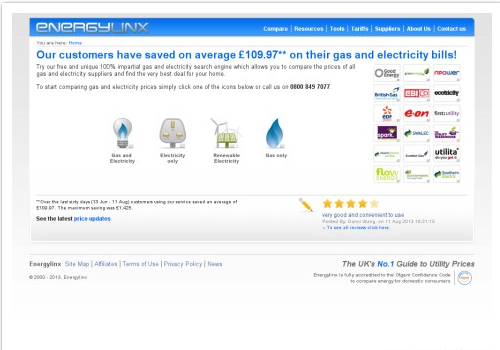 Energylinx Energylinx will be able to help you compare all gas and electricity prices from all UK energy suppliers. They say in only 5 minutes you could actually save hundreds. Follow Energylinx on Twitter @Energylinx
MoneySupermarket.com Read the Moneysupermarket energy guides and learn how to keep your costs down. You can switch energy suppliers and see read lot's of energy saving tips on using less energy in your home or business. Follow MoneySupermarket on Twitter @MoneySupermkt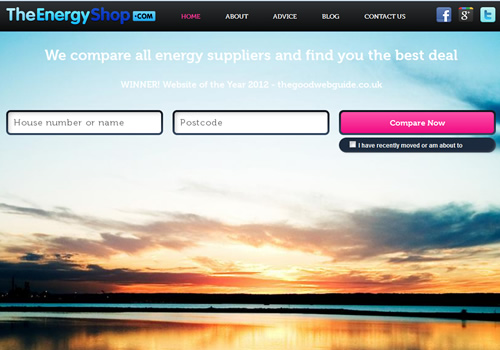 TheEnergyShop.com Independent gas and electricity price comparison. Winners of "Website of the Year" by the Good Web Guide in 2012. They send their tariff data to the regulator Ofgem. They use it to keep the energy suppliers on the straight and narrow. Follow the Energyshop.com on Twitter @_TheEnergyShop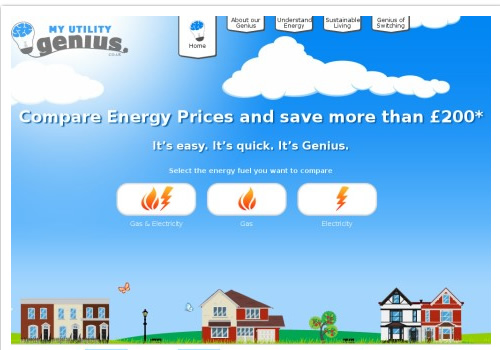 myutilitygenius.co.uk The website is quick and easy to use and is why they are called Genius I think! Select the energy fuel you want to compare as a single comparison or joint, gas and electricity together. Follow myutilitygenius.co.uk on Twitter @MyUtilityGenius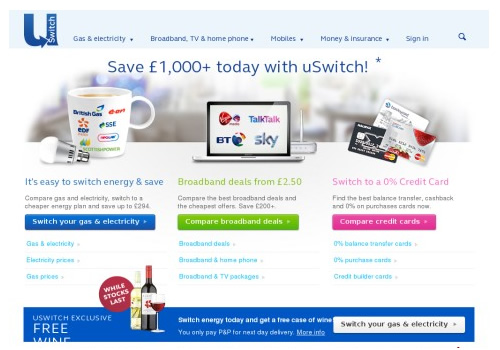 uSwitch Read about all suppliers and look over all the plans and tariffs. Want to see price history or look over customer satisfaction scores? If you're ready to switch hit 'compare now' to see prices for energy suppliers in your area. Follow uSwitch.com on Twitter @uSwitchUK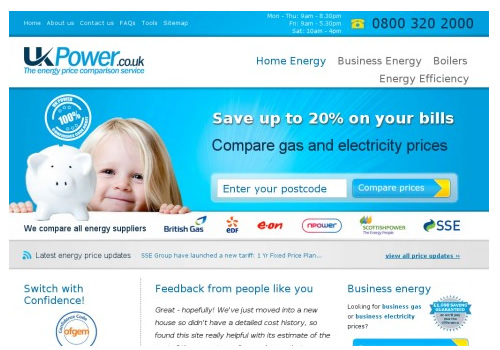 ukPower.co.uk The UK Power energy comparison site is completely accredited to the Ofgem confidence code to compare energy prices for domestic consumers. They have made the energy comparison service quick and easy! Follow ukPower on Twitter @ukpower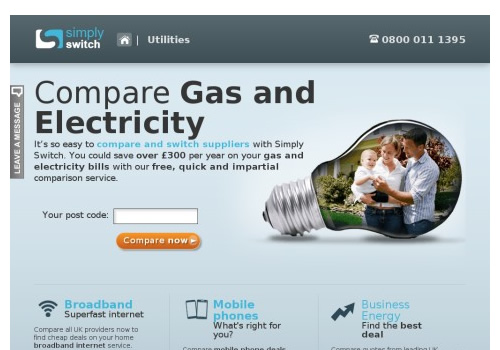 SimplySwitch Simply Switch say you could save over £300 per year on your gas and electricity bills with their quick and impartial comparison service. Once you've saved on these then they also can help compare broadband, mobile phone tarrifs and business energy too.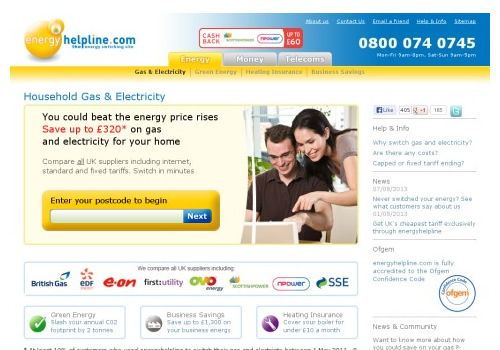 energyhelpline.com Energyhelpline think you can beat the energy price rises and say they can save you up to £320 on gas and electricity for your home. They compare all UK suppliers including internet, standard and fixed tariffs. Follow energyhelpline.com on Twitter @energyhelpline1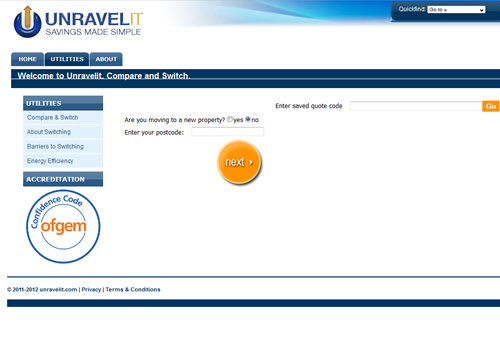 Unravelit Unravelit will help you compare gas and electricity prices and switch to a cheaper supplier online in minutes. The first price comparison service to be officially accredited by Energywatch (now Consumer Focus), the UK's gas and electricity watchdog? Follow Unravelit on Twitter @unravelit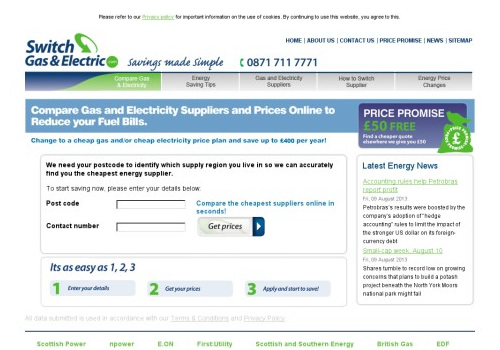 switchgasandelectric.com Switch Gas and Electric want to help you find the cheapest supplier of gas and electric. The cheapest supplier of gas and electric is dependent on geographical location and usage. Follow swithgasandelectric.com on Twitter @SwitchGandE
Making an informed energy switch is an action that will give you access to the cheapest energy supplier. For too long now, energy suppliers have been able to over-charge and surprise people with unexpected costs as a result of maintaining poor billing standards.
Useful Resource:
Citizens Advice –  Have some great advice about swapping energy suppliers you can visit the (Advice Guides) where you will find lots of independent information to help you further.
Ofgem – The Ofgem website has information for domestic and business consumers. From making a complaint to switching your energy supplier. They have a 'NEW', easy to use website so be sure to check it out after watching the introduction video. www.ofgem.gov.uk