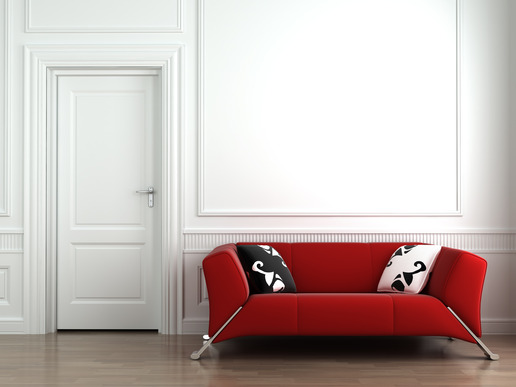 Is your home décor in need of a facelift? Are you a renter looking for ways to decorate without spending too much?
Styling your house or flat doesn't have to be an extravagant affair. Small touches are all you need to make your home look amazing, and these ten tips will help you get started:
1.Display your belongings proudly
This is a particularly good trick in the kitchen. If you're buying new gadgets or kitchenware, shop for style as well as functionality to get the most out of your purchase — you can arrange everything on your counters to stop them looking bare and boring.
2.Wallpaper shelves
To spruce up a dull shelf, or add a touch of colour to a bland room, try buying some coloured or patterned wallpaper to stick to the back of your shelves. Co-ordinate colours with the other soft furnishings in the room for extra effect!
3.Little things
Decorating isn't all about hefty furniture and statement wall art. You can liven up your home with things as small as trinkets on shelves, candles, and even decorative fridge magnets to pin up important notes.
4.Throws and cushions
Maybe your sofa is looking a bit scruffy, or that chair in your bedroom doesn't match the curtains. You don't need to splurge on replacements. Buy some blankets and cushions to throw over what you don't like and give your furniture a makeover.
5.Painting
A fluffy throw might revive your sofa, but it won't work so well on hard furnishings. Luckily, any shelves, tables, and cabinets can be easily improved with a fresh coat of paint. Again, get creative with colours and match them up with the rest of the room.
6.Plants or flowers
You'll be surprised by how much more homely a room can look with a plant. If you don't trust yourself to keep a house plant alive for long, some deceptive fake flowers in a nice vase will brighten up any room. They'll also save you money in the long term!
7.Clothes line photos
This trick is an interesting and simple way to hang up your photos, and all you'll need are wooden clothes pegs, some twine, and a few wall hooks. Try hanging a string of photos above a piece of furniture — perhaps a table in the hallway. Square Instagram-style photos look best for this, and they're easy to print yourself if you want to save on professional prints.
8.Lighting
Once the sun goes down, the lighting in your home can make or break a room. Instead of using harsh overhead lighting, opt for lower level lamps in neutral colours. These will give your rooms a soft, welcoming feel, and you can buy table lamps for bargain prices.
9.Wall tapestry
Moderately priced wall tapestries aren't hard to find, but you could also repurpose a cool scarf for tablecloth for this one. A tapestry will transform a bare wall, make the room cosier in an instant, and give you a chance to experiment with bold colours and prints.
10.Statement piece
We all want to treat ourselves (or our homes) every now and then. If you're going to spend on one item for your household, make it something that you'll use and look at. In the kitchen, you could try some coloured pots or pans – copper and warmer metals are on-trend right now – and hang them from the ceiling. This will breathe new life into the room and save cupboard space.
With so many ways to re-decorate, styling your home will be a lot easier (and more fun!) than you think.