The home office furniture provided by suppliers like Ryman fulfils, at the most basic level, the obvious job of providing a place at which to work at home. There are several points to consider when selecting home office furniture, beyond simply measuring up and finding space in the home, not all of which may be immediately apparent. Here we look at a few of these considerations.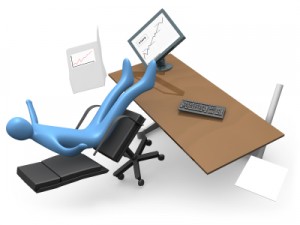 Home office furniture such as a desk, chair and filing cabinets can play an important role in delineating a workspace within the home. The placement of this furniture requires some consideration if you are to gain the full benefit from arranging this specialist space. While it can be tempting to place home office furniture simply where it will fit, off to one side of a room, you need to think about the kind of working environment that you will be creating.
Box rooms without windows are often a popular choice as the site for home offices, and may seem to be your only choice given the physical limitations of your house or flat. However, if you will be spending significant time working in such a space, a lack of natural light can potentially become a problem. One of the more serious considerations can be the risk of developing conditions like Seasonal Affective Disorder, commonly brought on by the changing of the seasons and a drop in exposure to natural light, which will of course be exacerbated by spending significant time in a lightless room. If you will be placing your home office furniture in such a space, you should perhaps consider factoring in the additional expense of a light box, which supplies white, 'natural' light to compensate for the wavelength deficiencies of the illumination provided by normal home lighting.
Ventilation and heating can also prove to become important when you are putting in serious hours. Having your desk and chair too close to a radiator, for example, can make things pretty uncomfortable during the winter months. Similarly, if you are thinking of converting your garage into office space, and have a limited budget, summers can get unpleasantly hot without good ventilation, while winters prohibitively cold without adequate insulation.
Most people are by now aware of the important ergonomic considerations when selecting home office furniture. If you are a little vague about how home office furniture, and in particular your desk and chair should be set up, make sure that you conduct a little online research. This is especially important for laptop users, as the design of these devices can encourage bad posture, especially when engaged in heavy usage. Measures as simple as using a separate USB keyboard, and raising the height of laptop – and therefore the screen – by placing the unit on a box, can help avoid all sorts of back and neck problems in the long run.