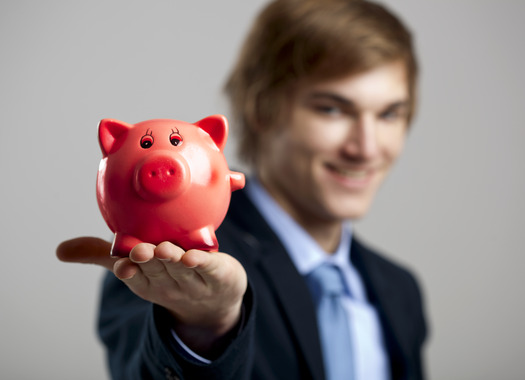 Build up your savings account with very small changes to your lifestyle.
It may seem impossible in to-day's tough economic conditions to stash away money into a rainy day savings account. However there are many small things you can do to gradually build up a healthy reserve fund. You must be prepared though to make small changes in your lifestyle to bring this about and that will probably require some self-discipline!
The changes are quite easy to make and will certainly seem worthwhile once you see how your money can grow.
To understand how this works take a look at a few savings techniques that can help you start saving money straight away:
Cut out any daily quick snack foods and coffee shops
Many people start a programme to accumulate money for a rainy day by deciding to make fewer trips to their favourite sandwich shops or coffee shops. It's not difficult to save money this way because it's quick and easy to make sandwiches, soups, and other delicious foods to take to work for lunch. Just prepare your food the night before as you'll find it much easier than trying to do it first thing in the morning.
People who have taken a packed lunch to work at least once a week instead of going out to eat have typically been able to save as much as £30 – £50 a month, that's £360 – £600 per year. It's well worth trying this technique to see how much you can save.
Save your pocket change for a rainy day.
Many of us receive pocket change after we have bought an item. Why not save that change in a jar for your rainy day fund? Most of us can save £20 – £30 a month £240 -£360 per year just by throwing our pocket change into a jar ready to deposit it later into our rainy day fund account. I used to wait until the jar was full before taking the change to the bank but these days banks don't welcome bag loads of change and many limit the amount they will accept per day. Some supermarkets have a machine that will count your money, sort it, and print out a slip with a credit note. Then the store will give you the hard cash in note form so you can take it directly to your bank. (Normally the cost for this service is about 9% so avoid using these services if possible as you'll lose a big chunk of your savings)
Set up an automatic deposit  from your main bank account in to your savings account.
Many people can start saving money by setting an automatic payment from their wages into their savings account each time they're paid. It's easy to save money this way because it takes just a few minutes to set up. Deposits £10- £20 per pay period into your saving fund and you'll have £120 – £240 per year.
As you can see, it's really easy to set up a formula that enables you to save money for a rainy day. In fact, once you have started saving money by using these and other techniques, you'll probably see your savings grow at a rapid pace.
Just by following these very simple tips you'll have saved between £720 and a whopping £1200 per year.
So what are you waiting for? Get cracking and start saving today!