So who is Karen Cannard and why is she so important? Karen is a down to earth wife and mother who first transformed her own life and has now been an inspiration to many others on her blog, The Rubbish Diet.
We all know it is important to reduce our waste and to participate in recycling and other 'green' i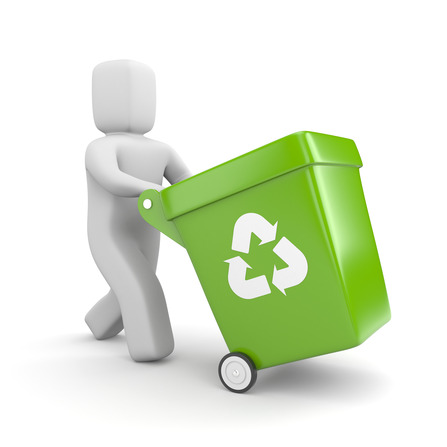 nnovations. But how many of us actually do that?
Karen claims she is really just average, but her work has truly inspired many people. Karen intended her blog to only last eight weeks, the length of her own Rubbish Diet Challenge. After she saw how many people were inspired to follow in her footsteps, she decided to continue the blog and website.
Karen herself is an inspiring person who is passionate about each of us taking steps to really make our planet a safer place for future generations. Her passion for a greener life appeals to everyone, whether they are on board with the green movement or not.
The overriding message you will hear from Karen is how each of us can make a difference. Just like a real diet, you can determine if your own Rubbish Diet will reduce ten percent, fifty percent or all of your waste.
The Rubbish Diet site is a blog that talks about Karen's experiences and teaches you to use the three Rs in every part of your life. You can decide to begin your own Rubbish Diet Challenge with all of the steps outlined right there on-site.
The purpose of Karen's site began as a way to share her experiences in trying to be a greener citizen. However, so many people have been impressed by her work that now the site acts as a place of information and sources for those looking to reduce waste in their lives.
Karen's work has also inspired local communities to get involved. Her first online challenge included eight households and now her concept has spread to entire communities. Shrewsbury, in Shropshire, has launched its own Rubbish Diet Challenge, and the Wiltshire Wildlife Trust also launched its own Waste Watchers Rubbish Diet. Karen's hope is that more communities will see these organisations' efforts and join in the crusade to ban rubbish.
Karen's family went from creating two or three 50 litre bags of waste every two weeks to having one week where the only thing they threw away was a sticking plaster. Now that's progress! If she and her family can do it, anyone can. As she has said, it is not about living with less, but living with less waste.
So what can you do? Can you commit today to become a greener partner in the fight against waste? Karen is always available for help if you decide to join the Rubbish Diet Challenge. She understands firsthand that some concepts may be harder to adopt than others. She encourages everyone to just do what they can, strive to improve and continue working on it.
Don't beat yourself up if you are not down to zero waste in eight weeks. The point is that during those eight weeks you are going to learn a lot about your family and waste habits. You will begin to notice where you can make changes and where you are not willing to make changes. No matter how much rubbish you eliminate, you will certainly feel proud of your accomplishments!
Help preserve our planet for future generations. Encourage friends and family members to join you in the Rubbish Diet Challenge today. Facing this challenge with others is a great way to stay on board and committed during the entire eight weeks. Be sure to tell Karen of your successes along the way! You can also contact her directly for any questions or problems you encounter.
Good luck and thank you for taking one more small step towards preserving Earth for the future.
You can also follow Karen on Twitter at @KarrenCannard and keep up to date with all her NEWS.