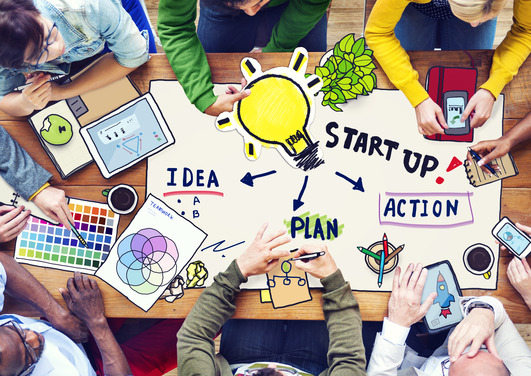 Going self-employed can be an exciting prospect; you can look forward to being your own boss and working to achieve personal success.
There are some practicalities that you will need to think about, however, to ensure that nothing stands in the way of your making your employment dreams come true.
It's relatively easy to start up a new business, especially if you get the help and advice that you need. There are plenty of organisations that can offer you vital information that you need, and there are lenders willing to offer loans for self-employed people to help them along on their journey.
You may choose to become self-employed or a sole trader whilst still working as an employee of another company. Whatever you do, here are some basics that you must think about and do in order to prevent problems in the future.
Register with HMRC
Within three months of setting up and working for yourself, you must register as a self-employed person with HMRC. You will have to take on responsibility for paying National Insurance and income tax if you earn enough, and you will need to register even if you already complete a self-assessment and pay tax already each year. It is possible to register by calling HMRC on 0845 915 4515, or you can complete the forms online.
Register for VAT
If your yearly turnover is £81,000 or more under current legislation, then you will have to become VAT-registered. Even if you have done so initially, you must register if throughout your business year you think you will hit this VAT threshold. This figure normally rises each year, so it is important to keep abreast of the current rules. If you don't let HMRC know that you are going to go over the threshold in the right amount of time, then you could be fined. Self-employed loans are to help you grow your business or fund important expenses, not to pay bills and fines that could easily be avoided!
You can choose to become VAT-registered even if you don't have to. Having your own VAT number can add credibility to your business, and you'll also be able to claim back VAT on eligible purchases. You could also choose a VAT scheme on a Flat Rate, which is designed to make VAT accounting as simple as possible, but you may want to get professional advice about what type of scheme would suit you best.
Set Up a Bank Account
If you become a sole trader, your business and personal money will be taxed as one, but it is important that you try to keep them separate. Having a clear divide between your personal affairs and your business finances and records will make accounting much simpler. Having a business bank account will help you to achieve this, and there are many deals available offering free business banking services for up to two years. When you set up a business account, think about the name you give it. Remember that this is what will appear on your invoices and cheques. You may also consider opening up a dedicated deposit account for your business. This can have benefits in terms of the interest that you earn but is only really useful if you are planning to keep your money in the account for a reasonable length of time.
Keep Up-to-Date Records
This can be a time-consuming task, but it is essential that your financial records are accurate and up to date. You are obliged to keep records of business transactions, but it will also help you to stay organized and to work as efficiently as possible. When it is time to put in your VAT return, if you have to, then you will need to pass your account and fill out your self-assessment. This will be much easier and quicker to do if your records and accounts are all in order.
Check Your Insurance
You may be obligated by law to have certain types of insurance for your business, so it is important to ensure that all relevant policies are in place. What is required will depend on your business and industry. There are also options to take out additional insurance. If you have one or more employees, you will need to have employers' liability insurance and should display your certificate so staff can read it. You may also need to think about public liability insurance to protect yourself if someone hurts themselves or their property is damaged because of your work.